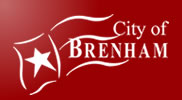 Mayor & Council - Elected Officials
The City of Brenham is a home-rule city governed by the City's Charter. The charter provides for a city Council-City Manager form of government.
The City Council is the principal legislative body of the City. The Mayor and two (2) Council Members are elected from the City at large to serve three year terms. Four (4) Council members are elected by ward, one from each of the four wards, to serve three year terms.
All City Council Meetings are held in Council Chambers in City Hall at 200 W. Vulcan Street, in downtown Brenham. City Council meetings are held on the first and third Thursday of each month at 1:00pm.
All meetings are posted seventy-two (72) hours prior, as required by the Texas Open Meetings Act.
Left to right - back row: Keith Herring, Andrew Ebel, Albert Wright, Danny Goss
front row: Clint Kolby, Milton Tate, Susan Cantey
Mayor and Council Biographies
Mayor Milton Y. Tate, Jr.

Milton Y. Tate Jr. first took the helm as Mayor in September, 2003 after the death of former Mayor Walter Schwartz. He was re-elected in May, 2005 and again in May, 2008.

As Mayor, Tate represents the whole City and is elected by all the citizens. He has been a resident of Brenham since 1963. Mayor Tate is an attorney at law, practicing with the firm of Moorman, Tate, Moorman, Urquhart & Haley, LLP. He is also president of the Washington County Abstract Company, issuing title insurance. Tate holds a bachelor's degree in business administration from the University of Texas and graduated from the University of Texas School of Law in 1963. He was admitted to the bar that same year. He has served as the county attorney for Washington County and was the city attorney from 1982-1992.

Mayor Tate is a former member of the Board of Directors for the Lower Colorado River Authority, the Brenham Economic Development Foundation and Trinity Medical Center. He is currently a member of the Brenham Rotary Club, First United Methodist Church and several organizations with The University of Texas.

Mayor Tate and his wife, Twila, have two daughters and six grandchildren. One daughter and her family live in Pflugerville, Texas and one daughter and her family live in Brenham. Mayor Tate enjoys walking, swimming, watching most sports and traveling with his family.

Mayor Milton Y. Tate, Jr.

mtate@cityofbrenham.org

Councilmember Keith Herring
Ward 1

Keith has been a resident of Brenham since 1993, moving here from San Antonio. He is a native Texan, graduated from Sidney Lanier High School in Austin, and attended the University of Texas. Keith served in the Marine Corps for 8 1/2 years.

Keith has been a substitute teacher for the Brenham ISD since the fall of 2002, and works on all campuses. He is also a high school baseball umpire. He participated in the Citizens' Police Academy in 1993, which sparked his interest in law enforcement communications. He subsequently worked with the Washington County Sheriff's Department and the Brenham Police Department as a 911 dispatcher.

Keith has been involved in youth sports for most of his adult life. The Washington County Little League has been his main focus in Brenham, where he served as the President of that organization for 4 years, and now serves as a volunteer umpire. One of the highlights of his term was the Summer of 2002, when Washington County had two teams advance to the World Series at the same time (Senior Boys and Big League Boys). Keith has also served on the Parks and Recreation Board for the City.

Keith and his wife Shirley were married in 1983. They have one son, Taylor, who will graduate from Virginia Military Institute in May 2009 and take a commission in the U.S, Marine Corps as a 2nd Lieutenant. The family has lived in the Scenic Estates neighborhood since 1994.

Keith Herring

kherring@cityofbrenham.org

Albert Wright
Ward 2

I am a native Washington County Texan and have called Brenham home since marrying my wife Emma in 1970. Together, we have 3 sons Chad, Justin, and Landan and enjoy our 5 beautiful grandchildren.

John Maxwell once said that "A leader is one who knows the way, goes the way, and shows the way." Servant leadership is not a goal I seek, but rather a core value I attempt to exemplify daily.

I believe true and effective leadership does not come with titles, but from people who are dedicated to serve others. I am committed to the spiritual and social advancement of this community. Some of my faith-based work includes being a pastor of the New Life Church of God since 1981 and Southern Interstate Ministries Conference (SIMC) Vice-Chairman. I have worked and volunteered for many community organizations including PTO president, BISD Mentor Program, Brenham Crime Stoppers, Washington County Youth Soccer Committee, and the Optimist Club to name a few.

I will align my passions for youth development, community enrichment, and ministry with my talents of community engagement, service, and outreach to serve the citizens of Brenham.

Albert Wright

awright@cityofbrenham.org

Mayor Pro Tem
Councilmember Andrew Ebel
Ward 3

Andrew has been a resident of Brenham since 1965, when he moved here from Houston after accepting a job with Waldie Sonnenburg at Medical Arts Pharmacy. At that time, the pharmacy was located on the Courthouse Square. Over the past 45 years, he has served his community in many ways; Andrew worked diligently as one of the Republican County Chairmen in the late 60's and 70's to help re-establish Washington County as a two-party community. Over the years, he has contributed his leadership skills to the PTO, Girl Scouts, Washington County Little League as a coach and headed the Washington County Texas Exes numerous times. He has also served as a member of the Trinity Hospital Foundation Board.

Andrew is a lifelong Methodist and has held many leadership roles in his church, First United Methodist Church, including Chairman of the Board. He is currently serving as the Lay Delegate to the Texas Annual Conference.

The City has seen a great many accomplishments since Andrew was first elected in 1992. He has had the privilege of serving under three mayors - the Honorable Robert "Buster" Appel; Walter Schwartz; and current Mayor Milton Tate. During his years of service, Andrew has helped several projects come to completion, including the installation of the Lake Somerville water line, beautification of downtown, the development of the Blue Bell Aquatic Center, Hohlt Park Sports Complex and the development of an affordable housing subdivision near the high school. Andrew was elected to serve in 1992 and did so until 2004; he was re-elected in 2007. He served as Mayor Pro Tem under Schwartz and was interim Mayor after Schwartz' death, until Mayor Tate was elected.

Andrew feels it is an honor to give back to the community that has provided so many opportunities for him and his family. Representing Ward 3 for a total of 15 years has been a privilege and a challenge he welcomes.

Andrew is a graduate of The University of Texas with a B.S. in Pharmacy. He and his wife, Susan, have two daughters, a son-in-law and two grandsons.

Andrew Ebel

aebel@cityofbrenham.org

Councilmember Danny Goss
Ward 4

Representing Ward 4, Danny Goss was first elected to Brenham's City Council in 2005 and is currently serving his second term in office. A native Texan, Goss grew up in Houston and attended the University of Houston. He completed the Fire Academy certification program at Texas A&M's Extension program. Goss moved to Washington County in 1978 when he and his wife, Debbie, were looking for the best place to raise their children. At the time, he was employed by Southwestern Bell and AT&T. After a number of years of commuting to Houston, and more than 20 years of service for the two telecommunications companies, Goss retired; he founded Goss Communications, Inc. in 1991 to offer voice and data equipment sales and service locally and throughout southeast Texas.

Goss is a certified firefighter and was active in the Washington Volunteer Fire Department after moving to the area in the late 1970s. He retired from the Brenham Fire Department as an assistant chief in 2005, having served for 21 years.

Goss served on the recent task force for developing the Brenham Police Department's new facility scheduled to open this fall. He currently represents the City as a liaison to the Washington County Healthy Living Association Board of Directors and is a member of the Washington County Chamber of Commerce. He is also a member of the Brenham First Baptist Church. His favorite pastimes are going to ball games and hosting backyard barbecues for his family.

"I knew Brenham was growing and needed council members with vision who could dedicate a lot of time and hard work in their positions on council. I also knew I had the desire to help Brenham meet the needs of our growth, and the opportunity came when some community members asked me to consider running for the Ward 4 position," Goss said. "Looking back after just over four years in office, I am amazed at the recent changes in our community and the changes to come in the near future. A lot of people have worked together to make sure that Brenham will continue to offer quality living for our citizens, while accommodating visitors to our community."

Danny Goss

dgoss@cityofbrenham.org

Councilmember Clint Kolby
Position 5 - At Large

Clint Kolby is a local attorney with the Brenham law firm Betts, Walters & Mutscher, P.C. He graduated from the Mays Business School at Texas A&M University and South Texas College of Law Houston. He previously served 7 years as the Project Manager with the Brenham Economic Development Foundation. Kolby has also been a volunteer member of the A. W. Hodde, Jr., Technical Education Center at Blinn College, LCRA Regional Council, Washington County A&M Club, City of Brenham-Board of Adjustments, Blinn Alumni & Friends Association, and the Washington County Bar Association.

"I believe in servant leadership and want to take this opportunity to serve my community and the citizens of Brenham as the Position 5 At-Large City Councilmember," said Kolby. "With my education and professional background working on large capital projects with businesses and governmental agencies, I believe I offer a unique perspective for the challenges that the City of Brenham will face. As Brenham continues to grow and experiences new business and residential developments, we must be mindful of our budget while we promote public safety, economic development and community values to ensure that Brenham is a great place to live, work and visit," Kolby said.

He is married to Elizabeth Kolby, who is a Pre-AP and AP Physics teacher at Brenham High School. They have a daughter, Catherine, and a son, Thomas. Kolby and his family are also members of the Champion Fellowship church.






Clint Kolby

ckolby@cityofbrenham.org

Councilmember Susan Cantey
Position 6 At Large

My interest in Brenham and Washington began in 1978 when my late husband and I purchased a few acres on League Line Road (FM 390); acquired the abandoned Peterville School on FM 1155 outside Chappell Hill, moved it to our property and enjoyed being weekenders. Over the years, we also acquired three downtown buildings, Botts Title Company and started a law firm in Brenham.

After Craig's death, I built a home in Brenham and moved to town in 1996. My activities in Brenham have been varied and rewarding. They include Chamber of Commerce Board, Trinity Hospital Foundation Board, Unity Theatre Board, Brenham Greenways Task Force, St. Peter's Episcopal Church Art Show & Sale, Brenham Country Club Board, Animal Friends of Washington County Board and Brenham Rotary Club. Most recently I served on the Main Street Brenham Board. I had the fun of executing the Library Lizards fundraiser for the Nancy Carol Roberts Memorial Library. In 2000 it was my honor to be named Woman of the Year.

I am a 1953 graduate of Texas Woman's University (Texas State College for Women then), majoring in Spanish Literature.

Brenham has enjoyed significant growth over the years I have been here, while maintaining its historical atmosphere and warmth. A primary goal of mine on City Council will be to help Brenham grow gracefully into the future, while building on its illustrious past. Perseverance will be my by-word.

Susan Cantey

scantey@cityofbrenham.org
City Council Packets and Minutes