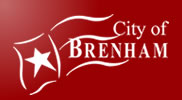 Purchasing
Online Bidding
The City of Brenham will soon accept bids online at https://brazosbid.ionwave.net.  Online bidding allows submission of bids without the time and expense of delivering paper bids and ensures that bids arrive on time and complete.
Vendor Registration
We invite all current and potential bidders, or anyone who would like to do business with the City, to register on the website. Registration allows you to show the categories of goods or services that your company provides. Registered vendors receive notice of bid opportunities as well as informal requests for quotes from any of the governmental entities who participate in the website. 
Learn More
If you have difficulty with the registration process or would like to know more about online bidding, please call or email the City's Purchasing Manager, Sara Parker, (979) 337-7247.
Open Bids/RFPs/RFQs
The Purchasing and Central Warehouse Department is responsible for the City's purchasing functions, maintaining control over the Central Warehouse, and is responsible for disposing of all surplus, obsolete or unserviceable equipment and inventory through the online surplus auction site www.GovDeals.com.
Purchasing has responsibility for developing bid specifications jointly with City departments, obtaining bids through advertising, establishing and monitoring price agreements/contracts and issuing purchase orders.
The Central Warehouse has responsibility for the computerized perpetual inventory system including maintaining, ordering, receiving, disbursing, and rotation of inventory and supplies for all City of Brenham Departments. This business unit also coordinates and schedules the annual warehouse inventory counts in connection with City's annual audit.
Contacts