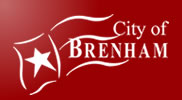 Home - Message from the Chief
Safety Tip:

Have a portable fire extinguisher available in the home. The recommended size and type is a 5 lb. ABC All-Purpose dry chemical. Fire extinguishers are available at all hardware and home product stores. Extinguishers should be properly mounted in a conspicuous location rather than being tucked away in a cabinet where they are not visible.
See more tips
Fire Department Service Survey - Had any interaction with the Fire department? We want your feedback!
Weather Spotter Training - February 26, 6:30-8:30 pm
Fireman's Training Center 1101 US Highway 290 W Brenham, TX 77833
National Weather Service will present how to identify and report severe weather to the NWS. Including tornadoes, damaging winds, and flooding. Learn what different cloud formations can tell you about thunderstorm severity. The training is free and open to the public. For more information contact Brian Scheffer at 979-337-7314.
Brenham Fire Department
The members of the Brenham Fire Department are proud to serve this community. We are fortunate to have some of the most talented individuals in the fire service working here. We are a combination department and our volunteers bring a level of commitment and support of which we could not do without.
We value the history and tradition of the Brenham Fire Department, an organization built upon the strong shoulders of our past leadership and our current members.
Without them we could not tackle the challenges of the future.
Mission Statement
The members of the Brenham Fire Department proudly dedicate ourselves to providing the highest level of fire protection, fire prevention and quality service possible to the customers we serve.
Call Volume Report
Below is our call volume report that breaks out the number of fire dispatched calls. This is updated annually.