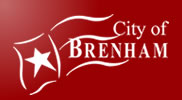 City Quick Links
Residents
The City of Brenham works hard to provide residents and the business community with superior services. We are always looking for new and innovative ways to serve our citizens. We realize your time is valuable, which is why we offer online utility payment options as well as automatic drafting.
We believe we offer first class facilities such as the Nancy Carol Roberts Memorial Library, the Blue Bell Aquatic Center and all of our parks. We are able to do so because of the support of our residents. We will continue to ensure the quality of life in Brenham remains a highest priority and we welcome your suggestions.
Moving?
Looking for property for a home or to rent? Many Realtors list properties on Texas Listing Service in this area of Texas.