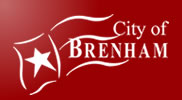 Public Utilities Department
Strategic Objective
The Public Utilities Department of the City of Brenham strives to enhance and maintain the level of service it provides the citizens by continuing to develop plans for delivering safe, reliable, and cost effective products and services.
About Public Utilities
The Public Utilities department has the responsibility of overseeing the day-to-day operations of 5 departments that make up the city's utility funds. This department has the responsibility of maintaining the infrastructure as well as providing utilities to the City of Brenham. The department receives and dispatches calls for all of the utility departments including power outages, sewer backups, low water pressure, water and gas leaks. Over 2,500 calls are received and dispatched each year.
The department interacts with multiple federal and state regulatory entities through reports and inspections. These agencies include, but are not limited to, the Environmental Protection Agency (EPA), Energy Information Administration, North American Electric Reliability Council (NERC), Texas Commission on Environmental Quality (TCEQ), Texas Water Development Board, Railroad Commission of Texas and the Electric Reliability Council of Texas (ERCOT).
The department is also directly responsible for the city's wastewater treatment, backflow prevention and FOG program. These programs are monitored and controlled in order to protect the infrastructure that the city of Brenham owns and operates.
Staff
Downloads:
Rates/Tariffs:
Electric | Water | Reclaimed Water | Sanitary Sewer | Gas | Sanitation | Rate Code Description
Grease/Grit Information:
Distributed Generation Topics: Application | Agreement | Summary | FAQs
BEFORE YOU DIG - DIAL 811. IT'S THE LAW!!!
| | | |
| --- | --- | --- |
| Water | | Blue |
| Sewer | | Green |
| Gas | | Yellow |
| Electric | | Red |
Color codes for Utilities Markings