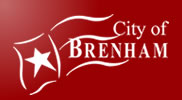 Electric Department
Downloads: Energy Saving Tips | Electric Tariffs
Alton Sommerfield - Electric Superintendent - Office: 979-337-7422
Linemen working
The City's Electric Department is responsible for the operation and maintenance of 119 miles of distribution feeder lines. We focus on the specific needs of our customers by providing excellent electric service reliability and quick response time to power outages.
The City receives electricity from the Lower Colorado River Authority (LCRA) through transmission lines running to the City's two substations. In these substations, electricity is "stepped down" from 138,000kv transmission voltage to 7,200kv distribution voltage. The electric system distributes that power throughout the City and it is eventually reduced to the required voltage levels by transformers placed at each home or business.
Lineman working at Electric Sub-station
The electric department serves more than 6,900 customers. The customer service department is available 24 hours a day, seven days a week. If you notice any low or downed power lines, street lights out, experience a power outage or have any other electrical problem, call our offices at 979-337-7400 any time.
On October 7, 2010, Brenham City Council passed an amendment to Chapter 26 Utilities Section of the Code of Ordinances adding Electric Utility Distributed Generation, also called on-site generation. Distributed Generation reduces the amount of energy lost in transmitting electricity. This is due to the fact that the electricity is generated near where it is used, generally in the same building.
Distributed Generation Downloads: Application | Agreement | Summary | FAQs
BEFORE YOU DIG - DIAL 811. IT'S THE LAW!!!
| | | |
| --- | --- | --- |
| Water | | Blue |
| Sewer | | Green |
| Gas | | Yellow |
| Electric | | Red |
Color codes for Utilities Markings