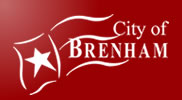 Utilities Navigation

Gas Department
Downloads: Gas Tariffs | Excellent Compliance Award
If you detect a gas odor anywhere, leave the area and call the
City of Brenham Public Utilities office at 979-337-7400 any time, 24 hours a day.
Ande Bostain - Gas Superintendent - Office: 979-337-7416
Excess Flow Valve Customer Notification
Gas Meter
Natural Gas is:
Colorless and Odorless (the gas odor is added)
Combustible
Lighter than Air
Non-toxic and Non-poisonous
Natural gas is delivered to the city's main gate station at a pressure of over 600 psi. The pressure is reduced to approximately 400 psi and odorant is added for safety purposes. The gas is transported to the city's two other "gate" stations where the pressure is reduced to 60 psi or less. The gas is then distributed through a system of mains ranging in size from 1-1/4 inches to 6 inches in diameter and is delivered to homes and business at pressures from 4 oz. to several pounds.
The Gas Department is responsible for the maintenance and operation of 122 miles of gas mains and serves more than 4,100 customers. The gas department is dedicated to gas system safety. The City of Brenham Gas Department has consistently been rewarded for its "excellent" performance rating. In March, 2014 the department was awarded its '100' performance rating by the Texas Municipal League's Intergovernmental Risk Pool demonstrating the City's commitment to safety and efficiency. The utility has earned a '99' or better since 2004, with 7 '100' ratings.
Main Gate Station
BEFORE YOU DIG - DIAL 811. IT'S THE LAW!!!
| | | |
| --- | --- | --- |
| Water | | Blue |
| Sewer | | Green |
| Gas | | Yellow |
| Electric | | Red |
Color codes for Utilities Markings