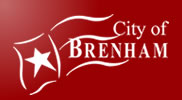 Sanitation Department
Holiday Closures:
Customer Service, The Recycling Center, and Collection Station will be closed for the following:
Martin Luther King Jr. Day - Monday, January 21, 2019.


Collection Information:

Residential: No Trash Pickup
Commercial: Regular Trash Pickup

We will re-open Tuesday, January 22 at 8:00am

Recycling Center Hours:
Monday-Friday 8:00 a.m. - 5:00 p.m.
Saturdays: 8:00 a.m. - 1:00 p.m.

Located at:
307 South Market
Brenham, TX 77833

Collection/Transfer Station Hours:
Monday-Friday 8:00 a.m. - 5:00 p.m.
Saturdays: 8:00 a.m. - 4:00 p.m.

Located at:
2009 Old Chappell Hill Road
Brenham, TX 77833
Vacant - Superintendent
Download: What can I recycle? | Collection Station Fees | Need Mulch? | Sanitation Tariffs | Sanitation Fees | Permitted Roll-Off/Compactor Providers
View: City and Residential-pickup holidays
Hours:
Monday-Friday 8:00 a.m. - 5:00 p.m.
Saturdays: 8:00 a.m. - 1:00 p.m.
Located at: 307 South Market
Brenham, TX 77833
Major items accepted at the Recycling Center include:
cardboard
glass
paper
cell phones

plastic
tin
aluminum cans

motor oil and filters
used cooling oil
batteries (dry and wet cell)
The City of Brenham Recycling Center is helping to keep our community a clean and healthy place to live. Keeping Brenham clean doesn't happen on its own. Almost everything can be recycled and kept out of landfills. When you bring in your various types of recyclable goods to the Center, you are helping to do your part in keeping Brenham beautiful!
Please be aware of what is acceptable and what is not acceptable.
Read all signs and feel free to ask an attendant if help is needed.
Placing items in the right container is the key to recycling!
Household trash is accepted for $1.00 per bag.
NON acceptable items brought to the Recycling Center if disposed, will be charged a fee.
Hours:
Monday-Friday 8:00 a.m. - 5:00 p.m.
Saturdays: 8:00 a.m. - 4:00 p.m.
Phone:
979-337-7455
Located at:
2009 Old Chappell Hill Road
Brenham, TX 77833
Download: Collection Station Price List
Major items accepted at the Collection/Transfer Station
used tires
solid waste
scrap metal

used computers
yard waste
brush

construction demolition debris (excluding cement and bricks)
The Citizens Collection Station is a full service collection/transfer station. The garbage and waste brought to the center by citizens, as well as the residential trash picked up on a daily basis is accepted at the Collection Station. Both the Collection and Transfer Station are open to the general public.
This solid waste is generally disposed of at the site utilizing roll-off containers provided by a third party.
The waste picked up at your curb and brought to the station by the residential garbage trucks is compacted and strategically placed into transfer trailers, maximizing weights at 20 tons per trailer. The Transfer Station also accepts waste from other municipalities, private haulers and other refuse companies. The final destination of the compacted waste is the Clean Harbors Environmental landfill in Altair, Texas. The Transfer Station is regulated to dispose of 125 tons per day. On an average, the station handles 70-80 tons of compacted waste per day. Currently the fleet consists of 3 long-haul trucks and 4 semi walking floor trailers, which are maintained and operated by 3 full-time employees.
The Citizens Collection Station has opened the door to waste reduction and awareness by producing mulch from the brush, wood waste and grass clippings brought into the collection station. First, the waste is ground through a set of 3 x 5 inch screens, producing wood chips. These wood chips are separated and stockpiled into larger piles to allow the mulching process to complete its cycle. After 4-6 months and adding water as needed, the wood chips are then double-ground through a set of 2 x 2 inch screens. These screens produce quality mulch which has a finer texture and darker appearance than wood chips. Once double-ground, "Municipal Mulch" is ready for its final destination.
Brenham's residential collection operation consists of three (3) International/McNeilus refuse trucks. Two are operated daily and one is used as a backup to collect household garbage from city residents. Household garbage is collected twice per week with Monday/Thursday and Tuesday/Friday collection. View Map of Collection Schedule
To ensure your garbage is collected, below are some helpful hints:

Garbage containers are not allowed. Household garbage must be in bags.
Please put your garbage bag(s) out by 8:00 a.m. on collection day to ensure you are not missed.
Leave your bags within 5' of the curb or edge of the pavement.
Maximum bag weight is 40 pounds. Do not over stuff your garbage bags.
Securely tie your garbage bags before placing at the designated area so contents cannot be scattered by animals or birds. This should also prevent flies and other insects access to the contents. Loose trash and debris can easily blow in the wind and produce unwanted and unsightly litter in your neighborhood.

To prevent injury to collectors, discarded or broken glass and other sharp objects should be boxed and marked "CAUTION" on the top and on both sides of the box.

Need more Trash Bags?
The City of Brenham issues rolls (1 roll of 50) of polyurethane bags to residents both in January and July. Additional bags may be purchased for $12.00 at City Hall in the Utility Billing department at 200 W. Vulcan.
Residential collection trucks will not pick up the following:

Discarded tires*
Carpet
Batteries
Construction materials
Furniture
Heavy metal objects

Explosives
Used oil and/or oil filters**
Radioactive waste
Grass clippings***
Tree trimmings***
Leaves***

Paint cans
Appliances
Hazardous waste
Ammunition
Flammable liquids
Lead acid batteries
* Vehicle tires are accepted at the Collection Station located at 2009 Old Chappell Hill Rd.

**Used oil, filters and cardboard boxes may be dropped off at the Recycling Center located at 307 S. Market.
***A special yard waste collection is provided every Wednesday for those residents who are unable to take their yard waste to the Collection Station. To arrange for this service, please call the Collection Station at 979.337.7455 on Monday or Tuesday for pickup on Wednesday.