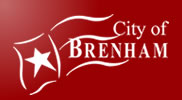 Visitors
⇐ Please use the links on the left to navigate to visitor oriented sites. Scroll down to read visitors' feedback and to post your own.
Brenham is a small town with a lot to offer. The links on the left will help you discover more about Brenham and Washington County. We also want to hear about your experience in Brenham. Share it here. Write about your visit or share your favorite thing about Brenham, add pictures, and post it for everyone to see:
My Story of Brenham:
I have lived in Brenham for most of my life. I did move away for 5 years and when I came back I saw my home in a new way. Working for the City only increased my love for the area, people, and makes me happy to be a citizen of Brenham.
The Community Fitness Walk is an annual event coordinated by the Brenham Independent School District in April. I didn't know about it until I moved back. The walk reminds us that it doesn't take much effort to get thirty minutes of activity every day. It is amazing to see the number of people that are involved in coordinate this event and how many citizens participate in it.
Main Street and the Downtown area has made so many improvements since I was away. Some of the improvements include: buried power lines in much of downtown, pocket parks with crosswalks, plants and benches, store-front improvements, alley cleanups, and building restoration projects. These improvements have greatly enhanced the downtown experience. Having a downtown area that provides entertainment, food, housing, and work is what master-planned communities like The Woodlands strive to create and Brenham has it.
There is so much history in the area and projects like Toubin Park and the Flying Horses Antique Carousel help bring the history to the surface and allow guests to interact and touch artifacts from the past.
Brenham is loaded with park-land. This brings sporting and recreation events into Brenham, which can be very entertaining. In one day I saw several soccer games, a football game, and a baseball tournament all going on at the same time in just one park. In the early part of the year, there are swim-meets at the Blue Bell Aquatic Center (BBAC) that make me want to swim more. The great thing about being inspired to swim in the winter is that the BBAC has three pools, two are indoors and are open year round.
Heading back to downtown, Alamo Alley is a great place to have an intimate event downtown. I attended a dinner there one night and saw a show afterward. There is now nightlife in Downtown Brenham, offering that third place between work and home to spend time with friends and family. Movies are shown in Hohlt Park in the summer-time and when the weather is a little cooler. The Dr. Bobbie M. Dietrich Memorial Amphitheatre is available for all kinds of outdoor theatrical and live music events.
This is just a small part of what the City of Brenham has to offer. I know there is more than any one person can share so I am opening this up for everyone to share their Brenham experience. Include your pictures and tell your story right here!
-Kevin
Share your Story in the Comments section below: